Weeknight Winners: 76 Diabetic Dinner Recipes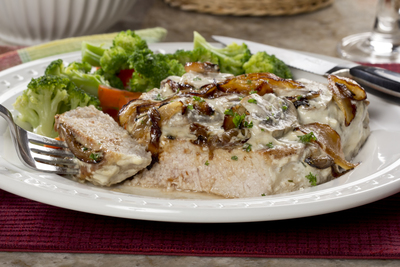 Sometimes it's hard to come up with what to cook for dinner for diabetics. Many recipes for diabetics are boring, bland, or complicated. But not these! This diabetic menu is full of flavorful, easy, unique recipes that will shake up your routine and add some excitement to the dinner table. They're our best dinner recipes for diabetics that are perfect for any day of the week. And if you're not diabetic yourself and are just looking for what to cook for diabetics, you've come to the right place, so stick around and check out our selection!

If chicken recipes for diabetics are your favorite, don't miss our Pizza Stuffed Chicken! It's flavorful, easy, and totally diabetic-friendly. If you prefer ground beef diabetic recipes, then you'll fall in love with our recipe for Beef with Noodles -- it's an easy diabetic dinner that's quick, flavorful, and filling. In addition to being delicious, these meals are easy as can be. If you're wondering what makes these diabetic recipes easy to make, just look at our ingredients -- you'll see lots of helpful shortcuts to cut down on your kitchen time. Talk about a win-win!

With diabetic dinner recipes this tasty and unique, you can beat the dinnertime blahs every day of the week. If you're feeling ambitious, try one of these easy diabetic meals every day for the week for 7 days packed with new, exciting flavors. Or, if you're just looking for a quick fix to tonight's dinnertime conundrum, just choose your favorite diabetic meal idea off this list and head to the chicken. Which of these easy diabetic recipes do you plan to try next? Let us know down in the comments below!



For more great recipes like this, subscribe to our free email newsletter!
Table of Contents
Diabetic Chicken Recipes
Chicken is one of the most popular dinner ideas for diabetics because it's so lean and versatile. And we have so many amazing, easy diabetic chicken recipes to choose from that selecting which ones to feature here was a toughie. But, we narrowed down our list to the diabetic recipes with chicken listed below because they're our absolute favorites. There's so much flavor and pizzazz in these recipes that you'll have a hard time believing they're actually diabetic-friendly. But they really are, we promise! So you don't have to feel an ounce of guilt for choosing one of these diabetic dinners with chicken and indulging at the table tonight.
Diabetic Dinners with Ground Beef
When you're stumped for what to make for dinner and don't have time to run to the store for ingredients, turn to this list of diabetic recipes for dinner with ground beef. Because you almost always have a pound or two of ground beef waiting in the freezer, it makes an excellent option when you're hunting for new, last-minute diabetic dinner ideas. The easy dinner recipes for diabetics listed below all use ground beef as a staple ingredient, and they use it in new and tasty ways so that your weeknight meals never have to be boring again.
Diabetic Pork Recipes
We can't forget about pork when we're talking about diabetic recipes for dinner. Pork is one of those lean, flavorful main ingredients that's flavorful and versatile, so it works all year round. These diabetic recipes with pork are perfect for quick and tasty weeknight meals, or even casual Sunday dinners. Plus, these diabetic dinners are easy, quick, and full of flavor, so you'll never get bored. Just grab your favorite of these diabetic pork recipes and head to the kitchen for a flavor-packed evening meal.
Cabbage Recipes for Diabetics
Many easy diabetic dinner recipes include cabbage because it's low-carb, filling, and versatile. And it's not as boring as you may think. There are so many ways to prepare cabbage that it's practically a dinnertime chameleon. In face, these diabetic recipes with cabbage are so flavorful, we're certain you'll find a new weeknight favorite in this list. Whether you prefer steamed cabbage or a filling cabbage soup, we have something to suit your fancy in this selection of diabetic cabbage recipes.
Diabetic Recipes for Two
Diabetic dinners for two come in handy when you just don't feel like making a big meal that will have lots of leftovers. When you're looking for a smaller, perfectly-portioned meal, just choose one of these diabetic recipes for two and head to the kitchen to make a meal that's just the right size for dinner tonight. No leftovers means less cleanup and fewer dishes, so you can enjoy the lighter workload in the kitchen tonight.
Diabetic Pasta Recipes
The next time you're craving some comfort food and wondering "what are good diabetic recipes to make?", take a look at this list. There's nothing quite as comforting as a pasta dinner, and these diabetic recipes with pasta are no exception. Now, you may be thinking that past isn't allowed on a a diabetic dinner menu, but you'd be wrong. These diabetic pasta recipes have a lighter twist, so they're perfect for your diabetes diet. Because we designed these pasta recipes for diabetics, you don't have to feel guilty about making one of these tonight and indulging in a little comfort.
Low Carb Diabetic Dinners
Low carb diabetic recipes may be the holy grail of diabetic menus for dinner. Because eating low carb is one of the best ways to control your blood sugar, these low carb diabetic dinners are the perfect option at dinnertime. At the end of a long day, you may be tempted to reach for something comforting and carb-heavy, but with these flavorful and filling low carb diabetic dinner recipes, you can ignore those cravings and choose something hearty and healthy instead. These recipes are so tasty and satisfying, you'll hardly believe that you're enjoying a low carb diabetic dinner -- you won't even miss the carbs!
Your Recently Viewed Recipes