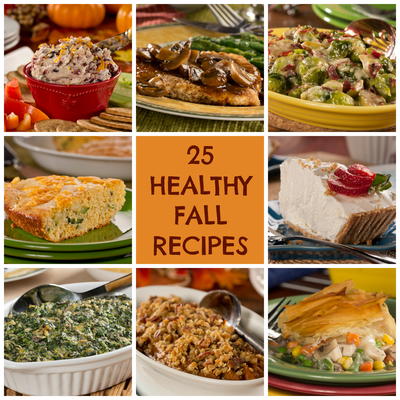 There are so many foods and flavors to get excited about in the fall when the weather begins to cool down like cranberries, apples, squash, and sweet potatoes. Usually, those foods come with a high carb price tag. Well, not anymore!  We're sharing everything from healthy fall side dishes and appetizers, to low carb desserts in this collection of our favorite healthy fall recipes. You can finally enjoy your most loved comfort foods, without any of the guilt! 
 
Table of Contents
Appetizers
Stuffed mushrooms are not only a popular healthy fall recipe, they're also often enjoyed as party appetizers. Our rich-tasting stuffing will surprise anyone with diabetes, because "yes, you can" eat these Cheesy Stuffed Mushrooms, because we made them lighter and healthier.
If you're a fan of those full-sized peppers stuffed with beef and rice, then you're going to love this bite-sized healthy fall recipe. Our Stuffed Mini Peppers are perfect for a party snack or friendly get-together 'cause they can be picked up and eaten in just one bite!
Whether for an anytime autumn gathering or the holidays, our Cranberry-Nut Spread is packed with nutrition and taste. Crunchy, creamy, tart and tangy, this delicious, and healthy fall recipe has it all.
Desserts
Our Crustless Sweet Potato Pie recipe makes for a guilt-free, sweet ending to your fall family dinners. In this healthy fall recipe, we use real sweet potatoes to make our homemade pie, so you can enjoy a truly authentic taste!
Our friend Cheryl Walker named this sweet treat Naked Cheesecake, since it was "just waiting to be 'dressed' with delicious toppings!" We couldn't agree more. Whether you top it with fresh berries like we did, your own concoction, or decide to leave it naked, it's time to break out the chef's hats, with this favorite fall recipe because the decision is all yours!
You don't have to bake up a whole pie to enjoy the taste of classic apple pie! With our recipe for Flourless Apple Pie Cookies you can easily enjoy that fall-favorite taste anytime, while still sticking to your diabetes diet!
Your Recently Viewed Recipes